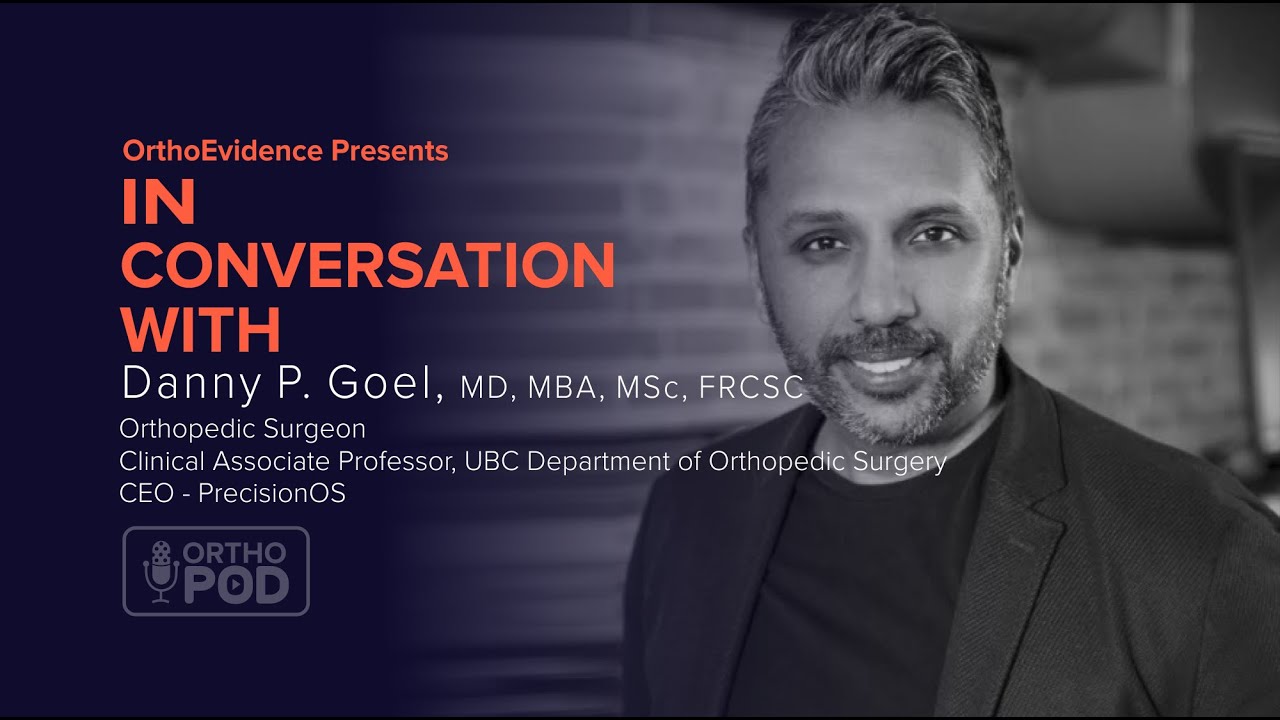 Traditional Training Isn't Cutting It: The Promise of Virtual Reality
Traditional Training Isn't Cutting It: The Promise of Virtual Reality

To unlock this feature and to subscribe to our weekly evidence emails, please create a FREE OrthoEvidence account
Already have an account? Click here
DISCLAIMER:
This podcast is for informational purposes only and is not intended to be a substitute for professional medical advice, diagnosis, or treatment. If you require medical treatment, always seek the advice of your physician or go to your nearest emergency department.
The opinions, beliefs, and viewpoints expressed by the individuals on this podcast do not reflect the opinions, beliefs, and viewpoints of OrthoEvidence.
Traditional Training Isn't Cutting It: The Promise of Virtual Reality
Host:
Mohit Bhandari, MD, PhD, FRCSC
Editor-in-Chief, OrthoEvidence
Guest:
Danny P. Goel, MD, MBA, MSC, FRCSC
Orthopaedic Surgeon
Clinical Associate Professor, UBC Department of Orthopaedic Surgery
CEO - PrecisionOS
PERSPECTIVES
Drs. Goel and Bhandari discussed the use of virtual reality (VR) in orthopaedic surgeons' education. Our discussion uncovered 3 core themes. These themes and their supporting insights are highlighted below.
1. Models of Education
The question of how to improve a surgeons' skill set and surgical education models has been the driving force for Dr. Goel's software company (Precision OS). According to Fleming's philosophy (Neil Fleming, the VARK model), there are different models of learning, including visual (V), auditory (A), read/write (R) and kinesthetic (K) modalities. People are trying to embody Fleming's philosophy in an effective learning path in orthopaedics.
In the traditional education model, learners watch a senior surgeon/expert operate or walk through a procedure, or watch a video of such demonstrations, and then practice the procedure themselves. The traditional model is usually a method of learning in an artificial environment. Yet, it is the large amount of time spent in the operating room (OR) or in front of patients afterwards that makes the difference in a surgeon's skill set.
The current surrogate of the education model is to practice on cadavers or sawbones. To Dr. Goel's knowledge, however, there is little evidence to show that practice on a cadaver or a sawbone increases skills or provides a similar experience to the real operating scenario. There is a learning gap for trainees with this education method.

The biggest challenge right now in orthopaedic surgery is our inability to recognize the fact that our current model is violating most principles of education. When we look at that holistically, (we may ask) are we doing and promoting the best and creating the best product at the end of the day? What else do we need to do to help align ourselves with the models in education theories, moving forward?
Furthermore, because of the COVID-19 pandemic, elective surgeries were stopped and new courses with cadavers or sawbones have not been developed. As a result, the "hands-on" kinesthetic aspect of the education model has essentially stopped. This will leave an impact on students' ability to regain their "learning curve" that they had established by practicing for months or years prior to the COVID-19 pandemic. In Dr. Goel's view, this could cause skill decay or a big gap in education that has not been addressed in orthopaedics.
2. Benefits of VR in Orthopaedic Education
Drs. Goel and Bhandari regarded VR as a viable replacement education method, and discussed various benefits of VR in orthopaedic education.
1) The technical aspect of benefit: ability of providing a pathologic condition.
In a software/digital environment, it is feasible to introduce a pathologic condition that would be seen in patients; whereas in a cadaver, it is a normal anatomic situation for trainees to practice. Taking a reverse shoulder arthroplasty as an example, the angle and position of the guide pin is the most important part of the surgery. VR can provide the condition of abnormal glenoid erosion and accurate measurement of glenoid version, tilt and the angle of the guide pin, whereas practice in a cadaver does not have these advantages.
2) Assessment of time between every step in a procedure or surgery.
The software can measure the delay in time between one step to the other. There has been literature to support that the estimate of the delay in time between procedural steps can be a metric of assessing an individual's ability to make a decision.
3) Accurate assessment of personal performance.
The software can be used to assess personal ability to perform a procedure with accurate, objective, quantifiable measurement. If a trainee places anterior and posterior pins in an internal fixation procedure for a fracture, the VR tool can measure their position with precision reaching to millimeters in the digital space. This is superior to the traditional method of X-ray assessment and examiners' subjective judgement.
4) Opportunity of exposure and capacity of remediation.
Simulation technology offers an opportunity to anyone to identify his or her potential gifts in orthopaedic surgery training or practice. It also helps provide capacity for more practice to residents who find themselves struggling, to try more and to get remediation in their training.

It's possible that there's a massive population of people that may have some brilliance in orthopaedics that we're just not capturing, because they're not seeing that they're actually good at something that they may pursue in a pathway [...] If some students in a program require remediation, VR or some type of simulation could actually provide a role for them to practice outside of the exposure they would get in their five years.
5) VR tools can provide users with a variety of environments and volume of surgeries.
With simulation softwares and VR tools, practitioners can reach a volume of surgeries, and more importantly, a variation in that volume that makes surgeons excel in their position.

The most important significance of education is how we train someone to go from average to good, from good to excellent, and from excellent to exceptional.

That's where I see how software can actually give you that volume. (Furthermore,) the variation in that volume of surgencies over their career can make him or her better at what they do. Because each of those nuances become part of their subconscious and then when they see that same pathology moving forward. It just becomes a natural idea in their mind where they just flow through that procedure seamlessly.
3. Strategies of Promoting VR in Orthopaedic Education
In Dr. Goel's opinion, simulation approaches in orthopaedic education are beneficial for skill set development. There is a lack of emphasis on the benefits of VR in healthcare and orthopaedic education. Educators and policy-makers are advised to promote the use of VR and integrate simulation tools in residency training programs.

We (Precision OS) are an interesting industry in healthcare unlike the aviation industry, which has adopted simulation fully and entirely. You must practice simulation before you even fly a real plane. Whereas in healthcare, including orthopaedic surgery, if a resident comes to the operating room or to the office their expectation is that they will fly the plane, regardless of simulation. As stakeholders, faculty, board members of assessment, we have to change our thinking and say, people should do simulation in healthcare before they go to the operating room.
Questions and Answers:
Dr. Bhandari: What was the history or context for simulation to play a role in healthcare education?
Dr. Goel: It was started in non-surgical specialties, for example, in intensive care. Historically, we relied on mannequin-based simulations that were embodied with plastic models. However, the digital software element of it hasn't been contributing to this field until now, after Moore's innovation, where the transistor capacity has been doubling into this inflection of healthcare.
Dr. Bhandari: What is the optimal usage of simulation within a typical orthopaedic training?
Dr. Goel: VR never lives in a vacuum. Orthopaedic education should be still associated with strong mentorship, reading, watching videos, and doing cadaver experience. But then we add the digital experience in traditional education with VR to augment trainees' existing experience and training, to push them to think bigger, and get them to a level outside of their residency year box.
Dr. Bhandari: What is going to happen a year from now, if we anticipate that our life gets back to a steady state after COVID-19 pandemic?
Dr. Goel: People will keep the habit of using video conferencing platforms like Zoom and telehealth services. About clinical education, there will be massive adoption of simulation.
SENSE-MAKING
Drs. Goel and Bhandari discussed how virtual reality plays a role in orthopaedic training based on Fleming's philosophy of education models. They discussed the benefits of VR training and strategies for promoting its use in residents.
How to Cite:
Danny P. Goel. Traditional Training Isn't Cutting It: The Promise of Virtual Reality. OE Perspectives. 2020;1(3):6.