We Help You Stay Current and Engaged
OrthoEvidence utilizes the highest quality musculoskeletal research and allows you to stay on top of the competitive landscape with a series of tools and products.
OE Insights
Original articles written on timely topics that are targeted to leaders in the field, or those simply looking for a quick, insightful read.
>
OE Originals
Original analyses that leverage the expertise of our in-house data scientists to provide new data driven reports and results to inform critical questions.
>
OrthoPods
In-depth interviews and discussions with leading healthcare professionals, innovators, and pioneers in Orthopaedic Surgery
OE Perspectives
Short discussion summaries of OE's video content and dive deep into the main themes, and highlight the main takeaway messages of each discussion
>
ACE Reports
Evidence summaries of published high quality randomized trials and meta-analyses a which contain the pertinent information from the original article, summarized in an easy-to-read format.
>
PeerView
Features the top trending OrthoEvidence content from your network over the past 30 days
Over 5700 Summaries
Search our extensive database of research summaries, Insights, Perspectives and more. Stay up-to-date with the latest research.
Personalization
Our new dashboard will allow users to customize their dashboard and select their specialties.
Notifications and Newsletters
Turn on alerts to have notifications sent right to your phone or computer. Receive our weekly emailers providing you with all the hlatest content delivered to your inbox.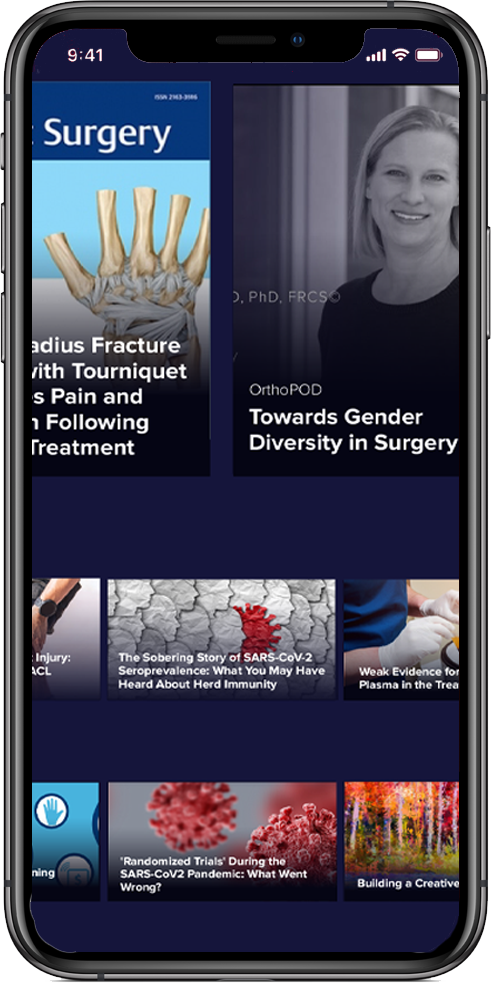 COVID-19 Resource Centre
Trusted source of COVID-19 relevant content including podcasts, evidence-based best practices, a library of full text publications, and OE insights from our network around the world.
OE Events
The OE World Tour is an exclusive online live event series. An opportunity to join leading academics and surgeons from around the world and explore insightful and timely topics in a small group setting.
Continuing Medical Education Credits
Read our ACE Reports and earn CME/CPD credits for a number of professions in the US & Canada.
If you have a membership with one of our partners below please contact your association/institution for instructions on how to activate your account! For information on becoming an OE Partner, contact us.
CANADIAN ORTHOPAEDIC ASSOCIATION (COA)
SICOT
Australian Orthopaedic Association (AOA).
Quebec Orthopaedic Association (QOA)
The Canadian Physiotherapy Association
SLARD
Stryker
ISAKOS
Canadian Memorial Chiropractic College (CMCC)
Smith and Nephew
Midwestern University
Oman Medical Specialty Board (OMSB)
Hamad Medical Corporation
University of the Pacific
Dutch Orthopaedic Association (NOV)
Innsbruck Medical University
California Orthopaedic Association (COA)
Vall d´Hebron Universitary Hospital
Mount Carmel Health System
SCCOT
Orthopaedic Trauma Society
Martina Hansens Hospital
Brown University Residency Program
CASEM
Malaysian Orthopaedic Association
AAHKS
Maryland OA
COS
MassOA
SRATS
AOTrauma Latin America
SEMCPT
OGU.
Ohio Orthopaedic Society
Pennsylvania Orthopaedic Society
Spanish Arthroscopy Association
South Africa Orthopaedic Association
Orthopaedic Learning Centre Hong Kong
ACE Report Synopsis
Weekly ACE Summary
OE Dashboard
Includes a 30 Day
FREE Premium Trial
(no credit card required)
ACE Report Synopsis
Weekly ACE Summary
OE Dashboard
CME Credits
Full Access to Ace Reports
OE Originals
OrthoPods
ACE Report Synopsis
Weekly ACE Summary
OE Dashboard
CME Credits
Full Access to Ace Reports
OE Originals & OrthoPods
Group Reporting & Analytics
(Association, Institution)
Volume pricing for associations,
societies and institutions
Benefits Include:
Access to over 5800 high quality musculoskeletal research summaries, reports and insights relevant to your field, practice and peers.
FASTRACK Program
Our FASTRACK program encourages passive members to stay involved by delivering custom content to them based on what their peers are reading.
Engagement Reports
Keep up-to-date with monthly aggregated reports on engagement specific to your association.
Membership Growth and Retention
At OrthoEvidence we can help your association achieve its member enrollment and retention goals by getting more informative content to more members in the least amount of time.
Continuing Medical Education (CME)/ Continuing Professional Development (CPD)
Our CME/CPD program allows a number of professions in the US & Canada to claim CME/CPD credits and is eligible in several other countries through reciprocity agreements.
Value
Membership pricing is cost effective and adding OrthoEvidence as a benefit helps your members see direct value in their dues.
Have a Question?

Already using our products and experiencing technical issues?
Pricing, Billing & Licensing

Have a pricing question or need help managing your account?

Evaluating our products and need advice before you subscribe?
MIDs
MINIMAL IMPORTANT DIFFERENCE (MID)
The minimal important difference (MID) is the smallest difference in an outcome that patients consider meaningful; this estimate was obtained from a systematic review of MIDs for each individual outcome of pain, function, and stiffness.